Digital Divide Coordinator Job Position Open!
The New Mexico Technology Assistance Program (NMTAP) is hiring a Digital Divide Coordinator, an independent contractor, to increase awareness and provide training on accessible digital platforms, accessible websites, service documents, access to broadband, AT options, community services available, and built-in accessibility. This will be provided for individuals as well as agencies, community programs, and providers. This contractor will provide accessibility information, training, and technical assistance statewide remotely and in-person, under the direction of the NMTAP Manager Supervisor. This is one-time funding for a contracted position starting August 1, 2023, and ending August 31, 2024, for a maximum of $59,800 including salary, Gross Receipts Tax (GRT) and Travel.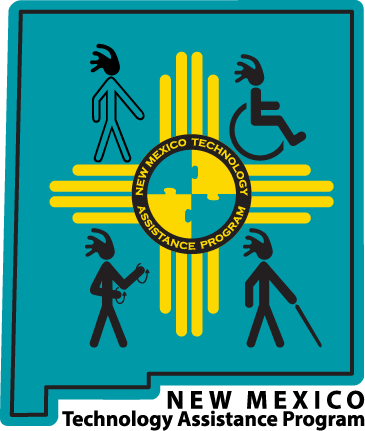 Read more about this position
NMTAP offers free services to New Mexicans with disabilities to help them get the Assistive Technology (AT) services they need. It is a statewide program designed to increase knowledge of, access to, and acquisition of assistive/adaptive technology and services for anyone with any disability, anywhere in the state, of any age. NMTAP, federally funded by the United States Administration for Community Living (ACL), fulfills mandates of Section 4 of the AT Act of 2004. The program is housed within the NM Governor's Commission on Disability (GCD).
Scope of Work –
Coordinate statewide services to reduce gaps and disparities among groups of individuals with disabilities who experience a digital divide in their communities through lack of awareness or resources. The contractor will work with individuals with disabilities or age-related challenges as well as providers of services to understand and to increase opportunities for access to Assistive Technology (AT) devices and services, broadband services, and accessibility requirements to increase opportunities for employment, healthcare, community living, and education.
Deliverables
Research and assess the needs of individuals to access services for health care, employment opportunities, community services, and educational pursuits.  Research and assess the awareness and options of entities to provide accessible services in these areas.
Using this data and anecdotal information to coordinate awareness and training regarding AT available, ADA required accessibility, and services available to connect to broadband and access websites, documents, and virtual platforms needed for individuals to equitably access healthcare and engage in life.
Provide technical consultation to government agencies and community entities to reduce disparities to healthcare, employment, community living, and education experienced by the aging population and individuals with disabilities in rural and metropolitan areas.
Collaborate with other interested parties, groups, or agencies who are facilitating services and supports to access healthcare, decrease social isolation, prepare for emergencies, and provide equitable access to services for individuals with disabilities or age-related challenges in their local communities as requested by NMTAP Program Manager.
Provide data entry, verbal and written reports on data collection and all activities as required.
Proposals for a Contract Accepted – Open until Filled
The contract period is August 1, 2023 – August 31, 2024. The proposal should include qualifications in AT, training small and large groups, networking, and working with individuals with a wide range of disabilities. The proposal should also include possible activities, budget for salary and travel.  Office equipment and space paid for by NMTAP. Some hybrid work with much of the time required to be done at the NMTAP offices and some travel around the state is also required.
How to Submit a Proposal
Send your proposal to Lisa McNiven (lisa.mcniven@gcd.nm.gov) and Tracy Agiovlasitis (tracy.agiovlasitis@gcd.nm.gov). Contact Tracy Agiovlasitis for more information or questions via email or 505-469-1489.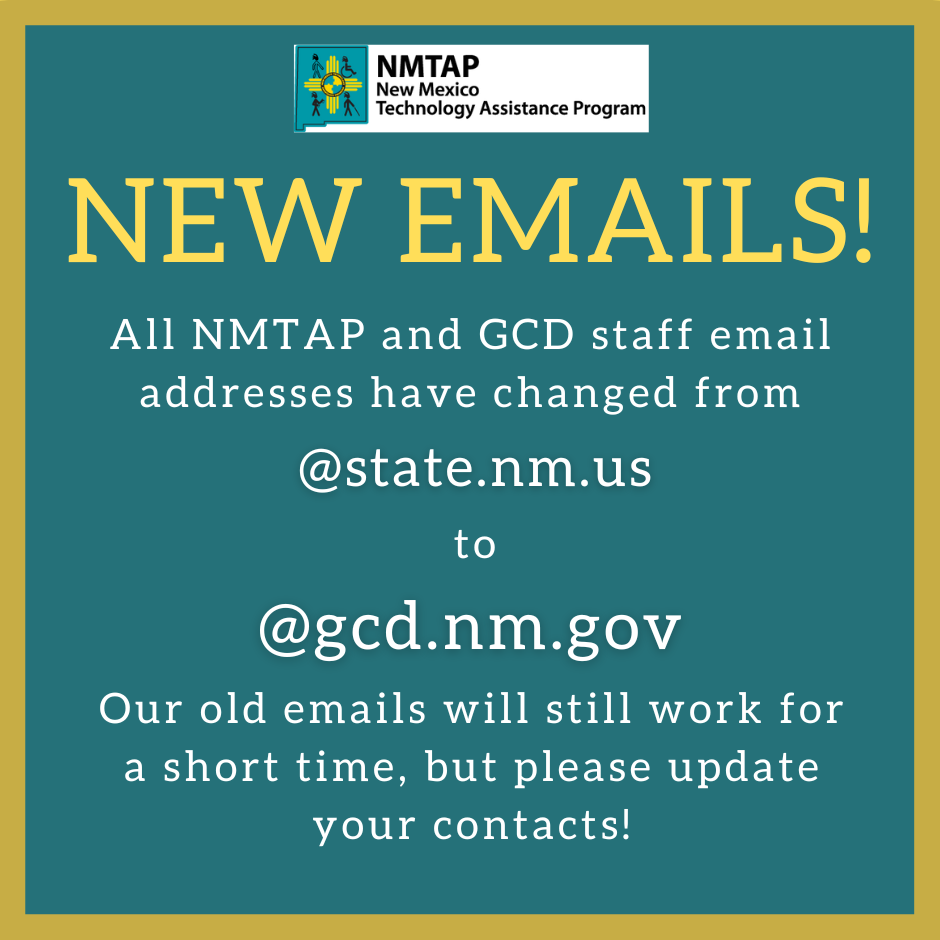 Our Email Addresses Have Changed
All NMTAP and GCD Staff email addresses have changed from @state.nm.us to @gcd.nm.gov. Please update your contacts.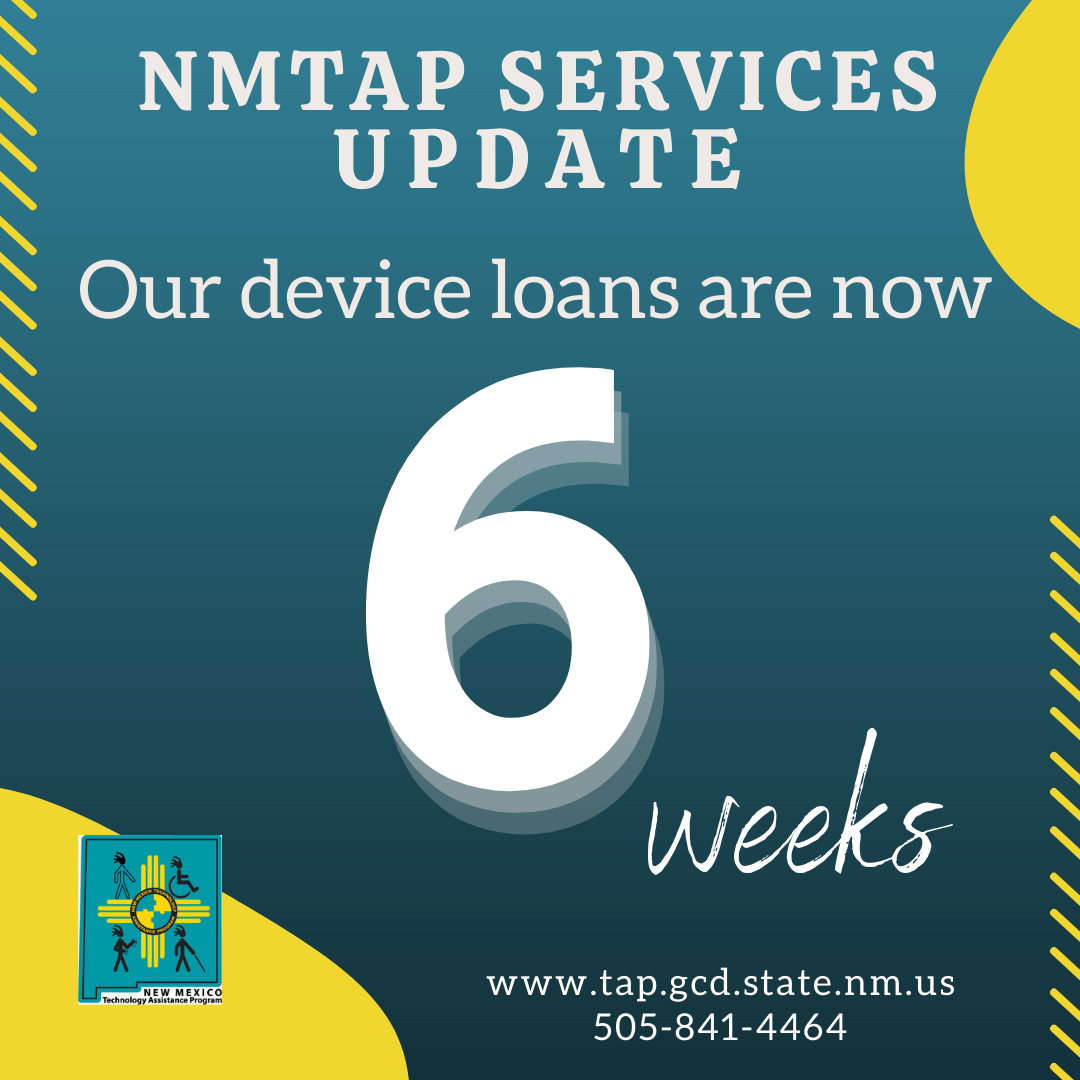 Our Device Loans for most of the devices in our loan library are now 6 weeks! Devices that are in high demand are still limited to the 30-day loan period. Check with NMTAP staff to confirm the length of your device loan.
Check out our online database to explore the Assistive Technology in our loan library.